FibreJet SAN Support

FibreJet comes with 90 days complimentary telephone support, including any major updates to the version purchased during that time. This coverage can be extended in 1-year increments (from time of original seat purchase, see; Keep it Simple – Work Together with the FibreJet: Complete Solution Support Plan), providing continued expert telephone support and coverage for major software updates to the version purchased during that time.
Priority access to SAN experts
Enjoy priority phone and e-mail support, and unlimited incidents for one year with direct access to CommandSoft's FibreJet SAN support team, 8am-5pm PST daily normal business hours.
FibreJet SAN support not only includes support for migration to FibreJet upgrades during the support period, but also SAN support for troubleshooting SAN components, including software, computer, switch, HBA, and storage, with experienced SAN engineers troubleshooting connectivity between components, including cable, SFP and Fibre Channel fabric. Onsite support is also available at an additional charge.
SAN Consulting
SAN Designing by Experienced SAN Professionals; SAN design is a complex issue, requiring detailed consideration of the needs of the customer today and in the future. Designing a flexible SAN that can be built in stages, always providing the necessary aggregate bandwidth to each SAN computer, storage, and the correct capacity can be a daunting task that can quickly turn costly if the wrong choices are made. Let our experienced professional make this step a breeze by offering whatever level of help you desire.
SAN Training
Training; CommandSoft provided instructor-led SAN training that is a customized course for your organizations particular needs, as well as related certification programs, either at an Authorized Training Center or, by special arrangement, onsite at your business or institution. This is a great way to learn the depths of how a SAN works, what it takes to operate one successfully in different environments and develop skills to troubleshoot problems on your own.
Implementation Services
Implementation the right way; Initial SAN implementation is perhaps the most difficult aspect of owning and operating a SAN solution. Tightly related to initial design, actual implementation involves actual installation of all the hardware, software, and configuration that is required to get a SAN off the ground running.
SAN Component from CommandSoft
CommandSoft's FibreJet SAN solution works with a variety of equipment, giving the customer choice as to where they source their components. This gives the customer truly best-of-class options, and doesn't lock them into a particular vendor for the entire SAN.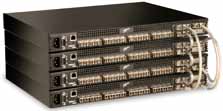 CommandSoft can recommend and sell all SAN components for your particular needs, including storage, switches, cabling, HBAs, SFPs etc.Apple Components from CommandSoft
As an Apple Reseller, CommandSoft can offer you any computer hardware or software from Apple. We'll even sell you Apple's Xsan if that is the way you really want to go!